Remote work doesn't have to be hard to track. Many features can help this process, and you will not see a difference in monitoring employees even if they are working from their home office. You can be in full control of your employees out of your workplace.
iFlow can help you in this process. The features within the app allow you to manage everything with a few clicks. That means you can focus your attention on other tasks regarding your business.
Learn about the features that will help you monitor remote workers like they are at their desk in the company's building.
Create a customized event ( Home Office/ Remote Work/ Work from Home)
When your employees are working remotely, all they need to do is add this event to their day. The admin or team-leader can add this event to a certain employee too.
This event will need to be a date interval event, and you will be able to see it in the Timesheet report and in the Monthly attendance report.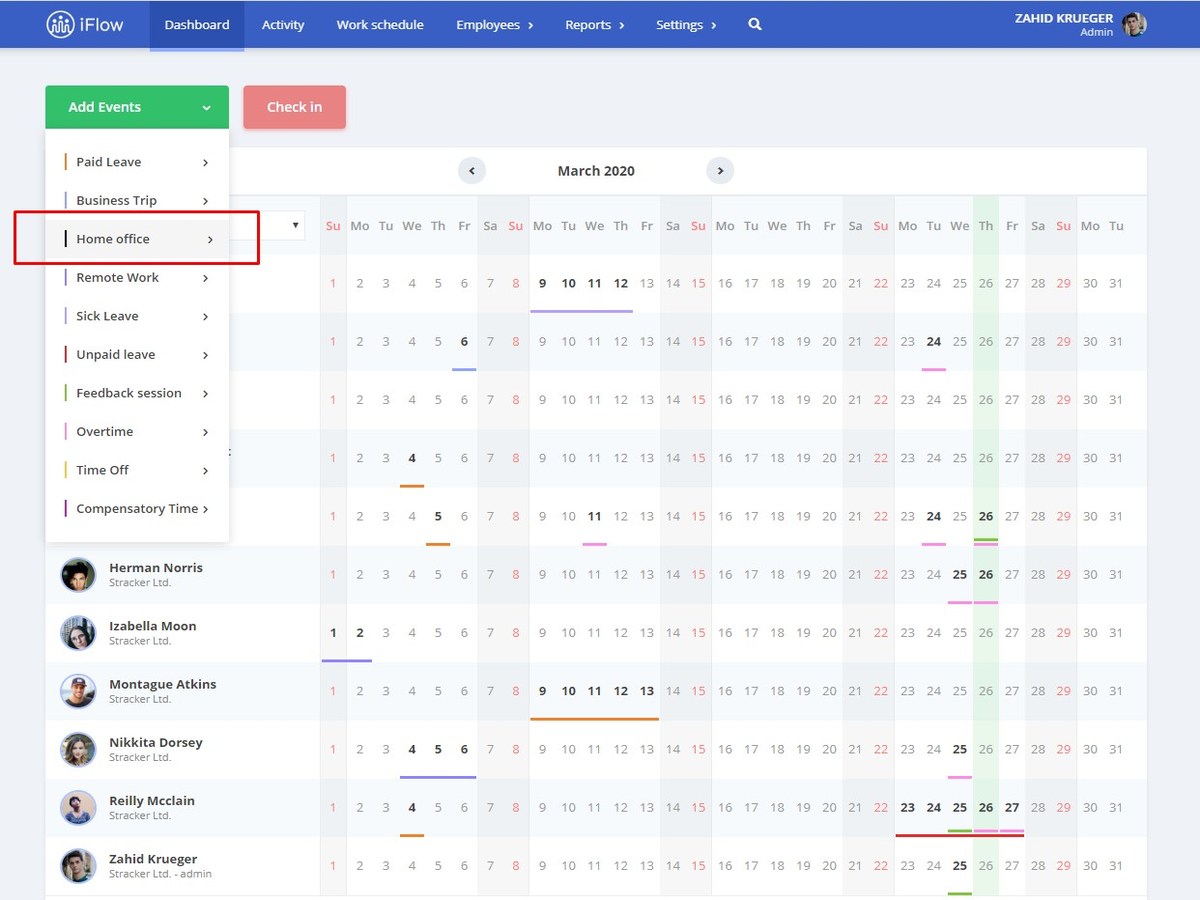 Check-in/Check-out & Register the location
You can register the exact location from which your employees are working with iFlow and the time interval in which they are working. Activate the "Use check in-out" feature so you can track your employees` daily attendance and the GPS location from where they check-in/check-out
Your employees will be able to check-in from any device (smartphone, PC, laptop, tablet). The app will automatically start registering the time they spend at work starting from the point they check-in and ending when they check-out.

All this information is available to you as an admin in the Real attendance report. You can see at any time the location from which your employees are working.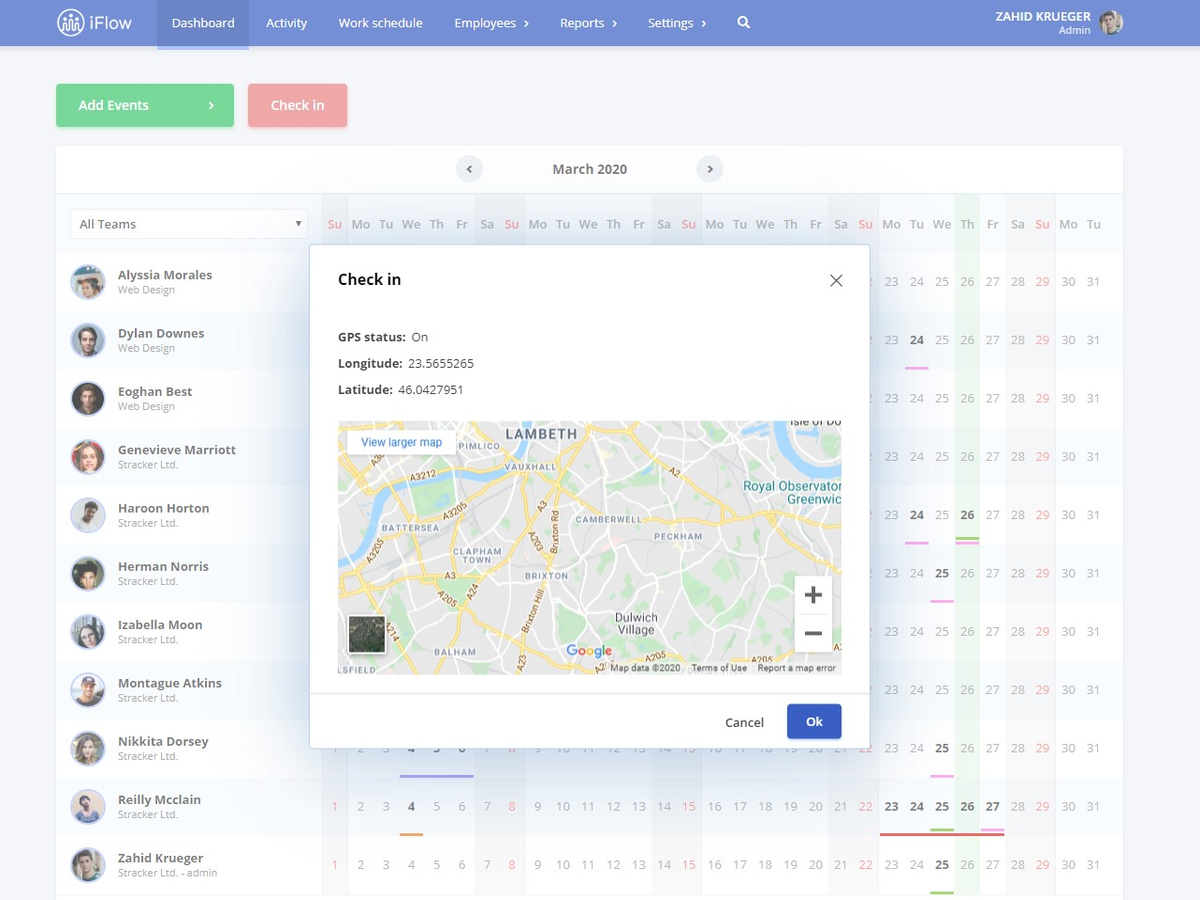 Upload documents online
iFlow allows you to upload files and documents directly in the app. This feature eases and shortens the approval process of an event, and you can also use it when you need explanations from your employees as to why they are doing overtime.

Also, predefined documents that are completed automatically when an event is created are available. For example, when your employee adds a paid leave event in his schedule, the app will generate a paid leave request automatically.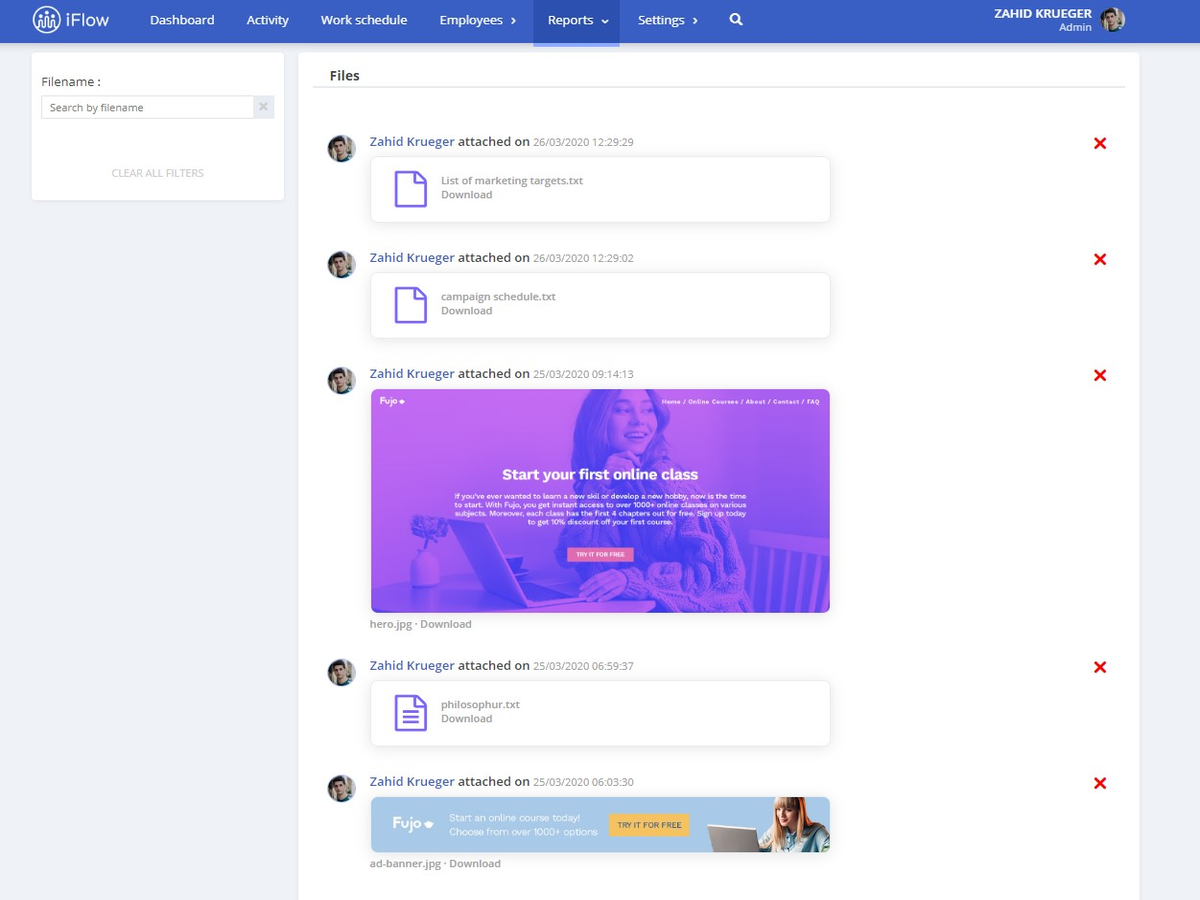 Overtime hours based on tags
Do your employees need to work overtime to finish a certain project? They can add them easily in the app and write the reason, for example," #AdforEasterCampaign", and now you can search based on the tag and find out exactly who is working overtime for it.

Reasons can be displayed for other events also. The app allows you to create personalized events and request that your employees offer a reason when they add it.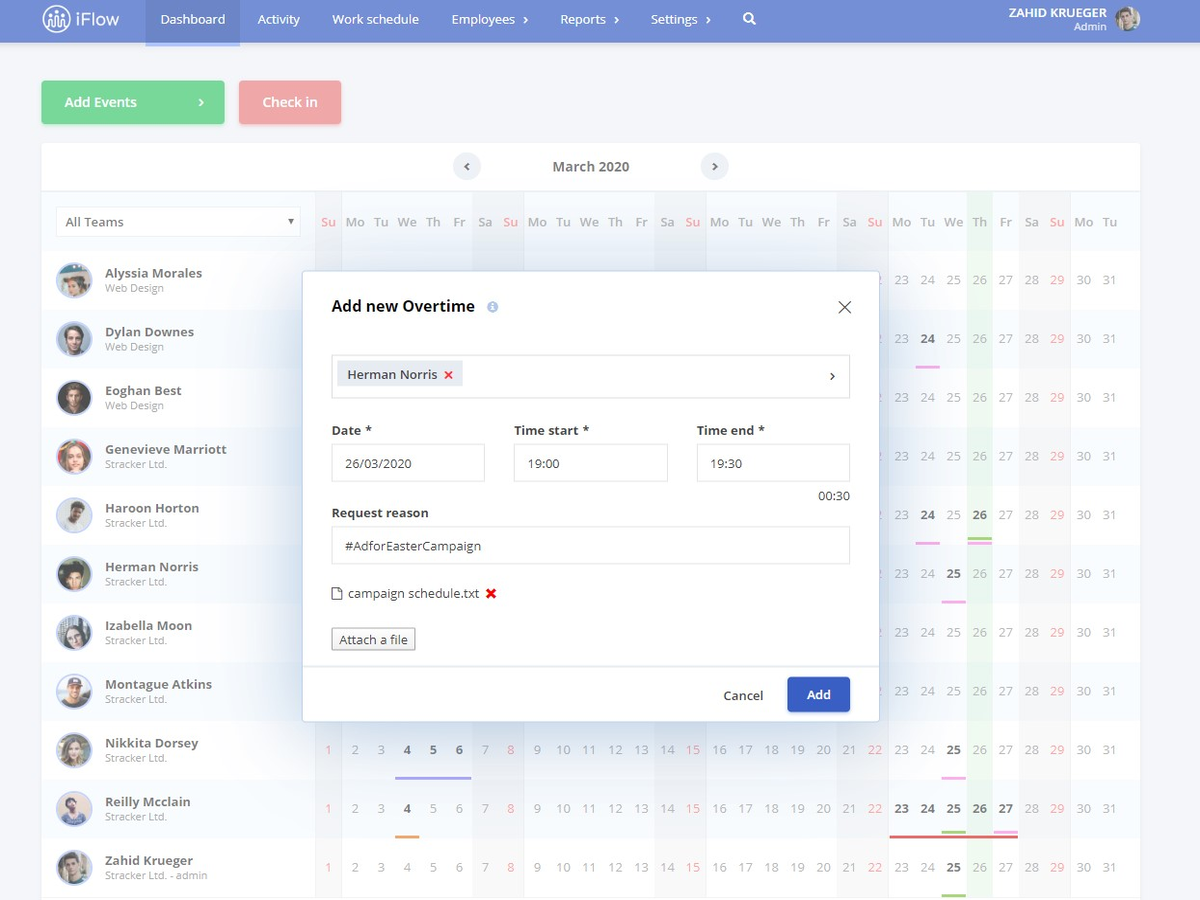 Different levels of approvals
There are 3 types of users in the app: admin, team-leader, and team members. Each of them has different levels of approvals that the admin controls.
Based on your settings, you can easily allow team-leaders to manage their teams, and you will only need to manage them. iFlow administrators have complete access to all the information stored into the app, and they can make changes anytime.

Emails notifications – for new events
Conference call or chat messages to ask if they can take time-off today or do overtime? No longer a problem you need to deal with by using iFlow. If you are working from home, you are probably making a lot more video conferences already, and you want to use your time more efficiently.

The app will notify you by e-mail for any requests your employees have in the app, and with a few clicks, you can choose to approve or reject it. Afterward, they will also be notified of the changes made in their profile.
Timesheet ready for payroll with a single click – online transfer
The app registers every change in the work schedule, every hour your employee worked overtime, and if they used them after as time-off. You can generate the report with just a click and transfer it to payroll. This assures you that there are 0 human errors in calculating the number of working hours. Therefore, all the salaries will be correctly calculated each month.
Access to employee data
All the personal data of your employees is stored safely in the app. iFlow handles personal information by respecting the General Data Protection Regulation (GDPR).
You can find their e-mail, phone number, etc. in one place. Also, you can create customized reports based on the information you need from your employees and all.

Remote work is easier with iFlow
Managing remote workers shouldn't be giving you a headache. You can schedule, approve, generate documents effortlessly. You and your employees can plan everything regarding their work schedules in real-time.

Oversee your employees from your home office as easy as you did it from work with iFlow. Register here and try it out for free.

If you need help to manage your remote workers while using iFlow, please contact us at [email protected] for assistance!