"Parental leave, or family leave, is an employee benefit available in almost all countries. The term "parental leave" may include maternity, paternity, and adoption leave; or may be used distinctively from "maternity leave" and "paternity leave" to describe separate family leaves available to either parent to care for small children."
Source: Wikipedia (https://en.wikipedia.org/wiki/Parental_leave)
A new parent is entitled to parental leave when they are employed for a certain period of time (depending on the country). They can be either full-time, part-time, permanent, or term contract employees. They cannot be dismissed because they requested parental leave, and they are entitled to return to the same job when the leave is over. If that is not possible, they should be offered a similar job, in line with their contract. A parent may be:
A birth parent;
An adoptive parent;
A person who is in a permanent relationship with the parent of the child and who plans on treating the child as their own.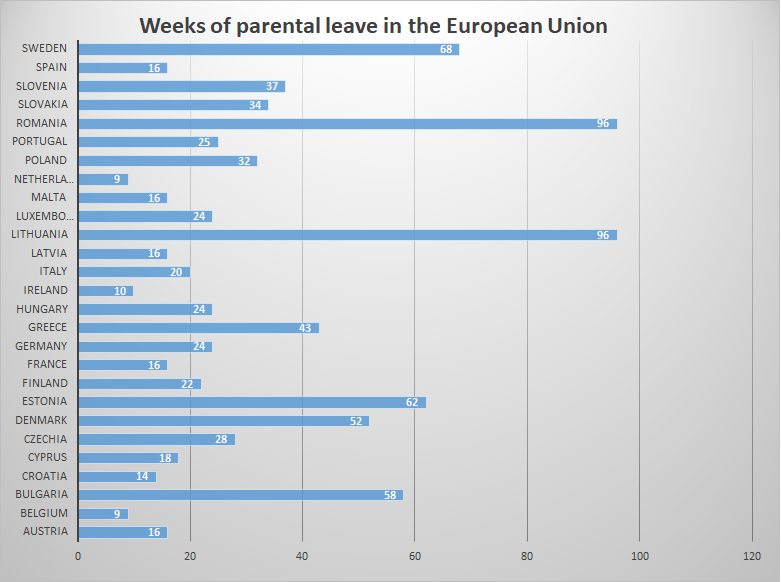 Every country is different and there are distinctive laws that apply in each of them. In the European Union, the time period varies from 9 weeks in the Netherlands and Belgium to 96 weeks in Lithuania and Romania. There is a maternity benefit paid for the period of parental leave, depending on the country. After this is over, parents can choose to extend their leave with an unpaid one. Here is an alphabetical list of weeks of paid parental leave in all countries of the European Union.
The end of parental leave
After the parental leave is over and parents return to work, children are usually enrolled into kindergarten, nursery, or daycare centers until their parents finish their work program. Most countries ensure programs for children under the age of 6 when primary school starts. There are private or state kindergartens. Every family chooses what they consider to be the best for their children. Some families don't enroll their children in these institutions, instead, they prefer to hire nannies or to homeschool.